Big Tech firms are raking in significant profits due to the surge in demand for their products and services amid the Covid-19 pandemic. This comes just a day after chief executives of these companies faced intense questioning in the nearly six-hour-long US Congressional antitrust hearing over their business practices and market dominance.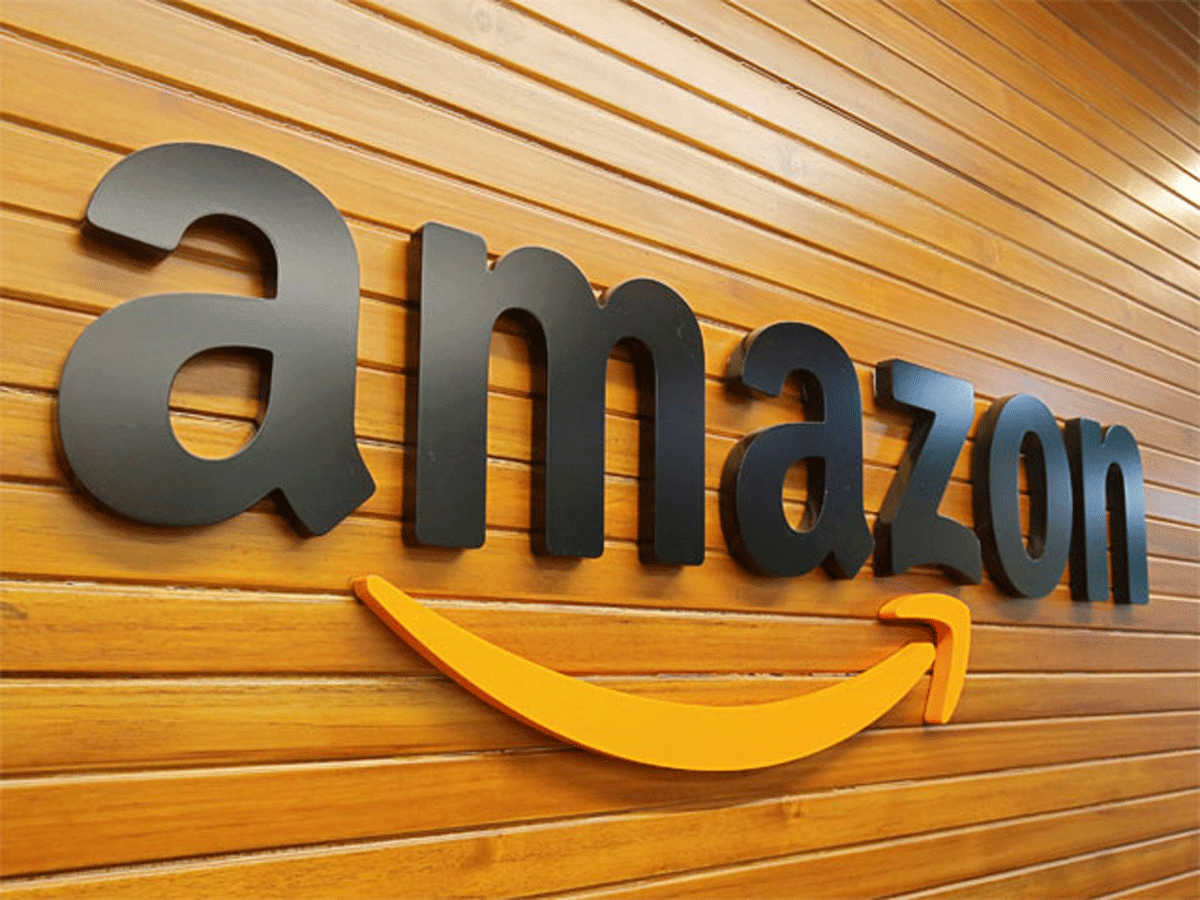 Amazon's record profit
Amazon reported a record quarterly profit of $5.2 billion for the three months ended June 30. This is the company's highest-ever profit in its 26-year history, despite spending $4 billion on Covid-19 initiatives. The company now plans to spend another $2 billion on similar initiatives this year.
By the numbers
Overall revenue jumps 40% year-on-year (YoY) to $88.9 billion in Q2.
International business posted revenues of $22 billion along with a rare profit of $345 million. It accounts for 26% of Amazon's net sales.
Online store sales grew 48% to $45.9 billion while physical store sales declined by 13% to $3.8 billion.
Third-party seller services revenue saw a 52% growth to $18.2 billion while other revenue which mostly comprises its ads business soared 41% to $4.22 billion.
Revenue from subscription services rose 29% to $6.02 billion.
Amazon Web Services (AWS) revenue surged 29% to $10.8 billion while operating profit was $3.35 billion. This is the first time the growth rate has dropped below 30% since Amazon started breaking out AWS revenue separately.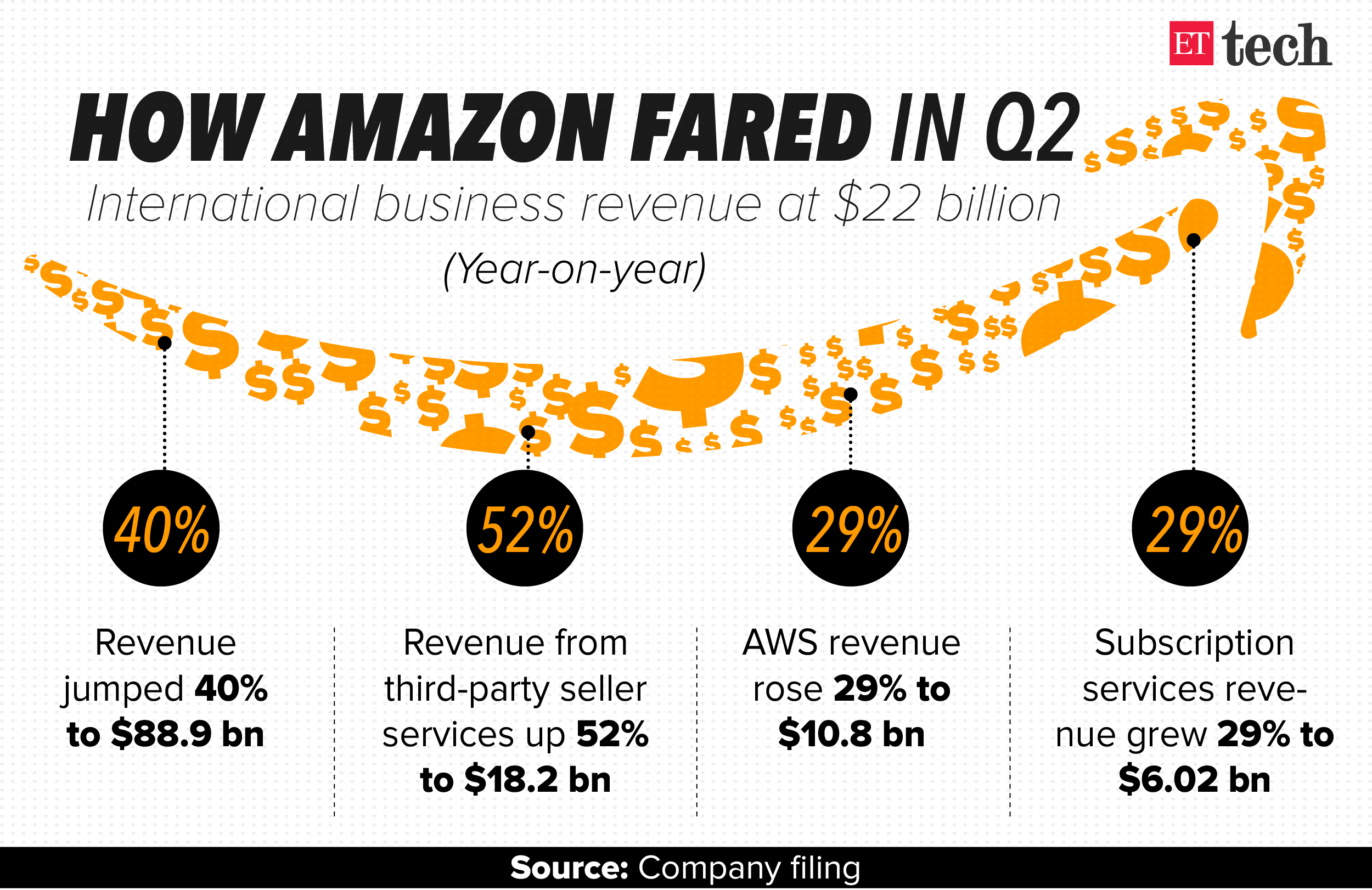 Indian sellers seek transparency
Meanwhile, Indian third-party sellers are seeking transparency from Amazon on its data practices as well as alleged preferential treatment to its in-house brands. Online seller body All India Online Vendors Association (AIOVA) has also raised similar concerns with the Competition Commission of India.
Key issues revolve around differential platform fees and the use of sales data to make Amazon's private labels and partner brands stronger
This comes at a time when small sellers are becoming increasingly dependent on online channels for sales in light of the economic disruption due to the Covid-19 outbreak. It also comes in the backdrop of Amazon founder Jeff Bezos's admission to the US Congress on Wednesday that he could not guarantee whether the online retailer was not accessing third-party seller data to develop its own competing products.
Amazon currently has more than 500,000 third-party Indian sellers and operates at least eight private label brands.
Read more: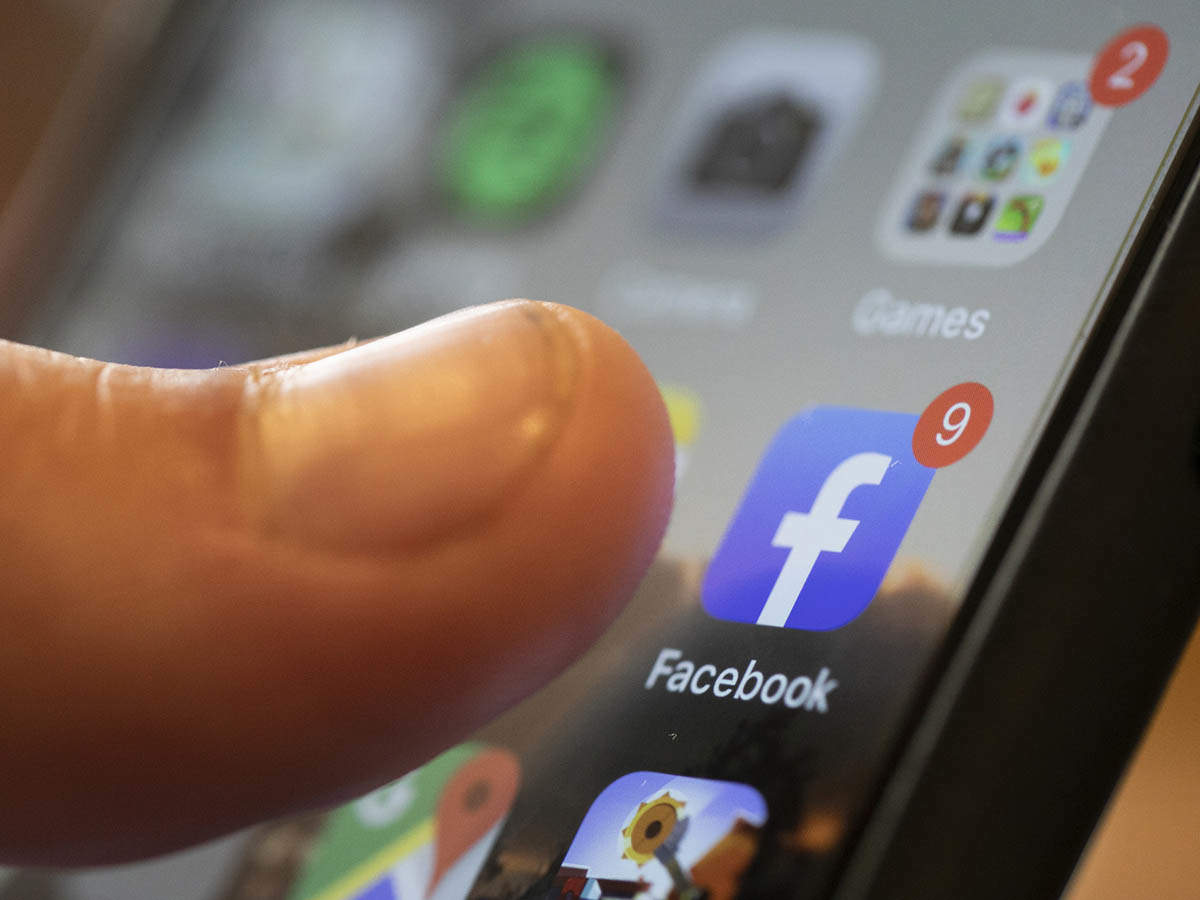 Facebook's ad sales growth
Facebook nearly doubled its second-quarter profit to $5.2 billion while revenue grew 11% to $18.7 billion, surpassing analysts' estimates.
While Facebook is under scrutiny for various reasons including failing to tackle hate speech, the spread of misinformation and political interference, which even led to a large-scale boycott by advertisers, these concerns don't seem to be impacting the social networking platform's user base or profits.
By the numbers
Facebook registered 3.14 billion monthly users across its family of apps including Instagram, WhatsApp, and Messenger as of June 30, 2020, a 14% increase on a yearly basis. About 2.47 billion visited these apps on a daily basis in June 2020, a 15% increase YoY.
Facebook's monthly active users (MAUs) clocked a 12% growth to 2.7 billion as of June 30, 2020, while its daily active users grew by 12% YoY to 1.79 billion for June 2020.
Ad sales rose by 10% to $18.3 billion in Q2.
Facebook's other revenues, which include its devices like Oculus and Portal, saw a 40% growth to $366 million in the quarter.
Taking Jio-WhatsApp model overseas
Facebook co-founder Mark Zuckerberg said the company will expand its partnership with Jio Platforms on WhatsApp to other commerce customers in India and will also take it to other countries. Facebook had invested about $5.7 billion in Jio Platforms in April this year and is looking to build an ecosystem for smaller retailers by facilitating commerce through JioMart and payments through WhatsApp Pay. Read more.
Also Read: How Facebook is logging into the Reliance Jio ecosystem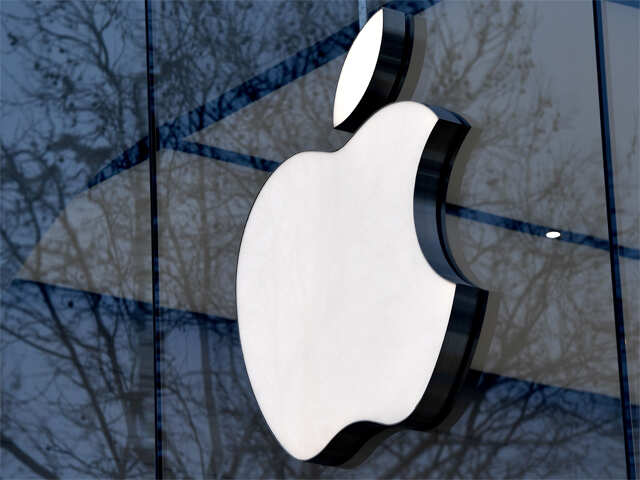 Apple devices, services see demand uptick
Apple saw increased demand for its devices and services amid the growing adoption of remote working and learning as people stay inside their homes due to lockdown curbs. Sales for Macs and iPads were particularly strong during the quarter while sales of its biggest revenue maker iPhones were impacted, primarily due to the closure of its retail stores.
Apple also announced a 4-for-1 stock split, in a bid to make the stock more accessible to a broader base of investors.
By the numbers
Total sales rose 11% to $59.7 billion while profit climbed 12% YoY to $11.25 billion.
International sales accounted for 60% of revenues this quarter.
Mac sales jumped 21% to $7.1 billion while iPad sales soared 31% to $6.58 billion.
Sales from Apple's service business jumped 15% to $13.2 billion.
Apple now has 550 million paying subscribers across its various services.
iPhone sales increased by 1.7% to $26.4 billion while wearables sales grew by 16.7% to $6.45 billion.
Delayed iPhone models
Apple's new iPhones will also be delayed by a few weeks this year, chief financial officer Luca Maestri said.
"As you know, last year we started selling new iPhones in late September. This year we project supply to be available a few weeks later," Maestri said during the company's earnings call. "We expect the rest of our product categories to have strong year-over-year performance." Read more.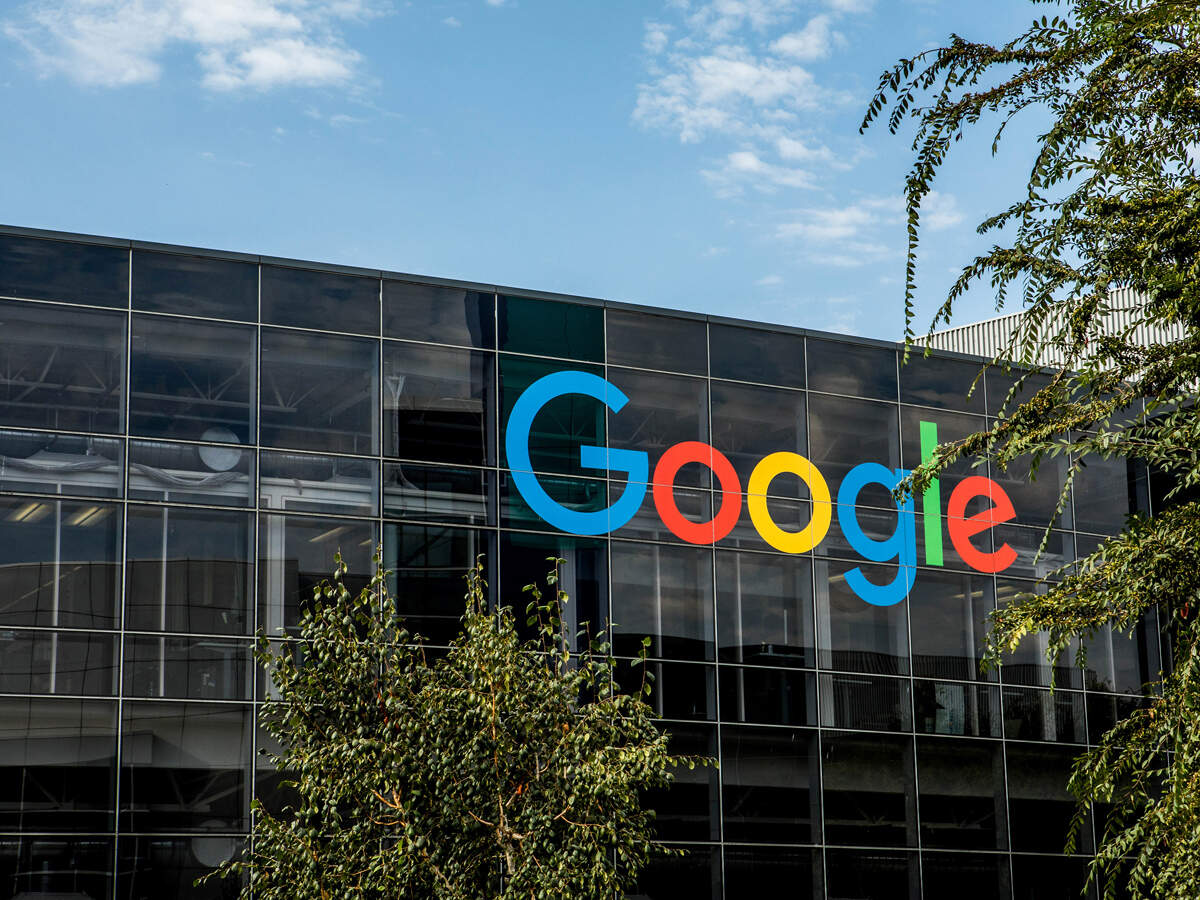 Google's first-ever revenue drop
Google parent Alphabet saw its first-ever decline in quarterly revenue in Q2 due to a cutback in ad spends, although the company noted its ad sales are recovering following a significant dip during the early stages of the pandemic. The strong growth in the Cloud business during the quarter also aided the search giant.
By the numbers
Q2 revenue declined to $38.3 billion from $38.9 billion last year. Profit dropped 30% to $6.4 billion.
Google ad sales dipped 8% to $29.9 billion.
YouTube advertising revenue was at $3.81 billion.
Google Cloud revenue grew 43% to $3.01 billion.
Google's other revenues that include its hardware and subscription revenues grew to $5.12 billion.
Revenue from other bets that include Waymo, Verily, and others fell to $148 million.
More transparent ad tools

Google also announced that it will offer new tools that will provide users with more information about the ads that they see, in a bid to increase transparency around how digital advertising works. It will initially be available for display ads purchased through Google Ads and Display & Video 360, and the company plans to bring it to other ad surfaces throughout 2021. Read more.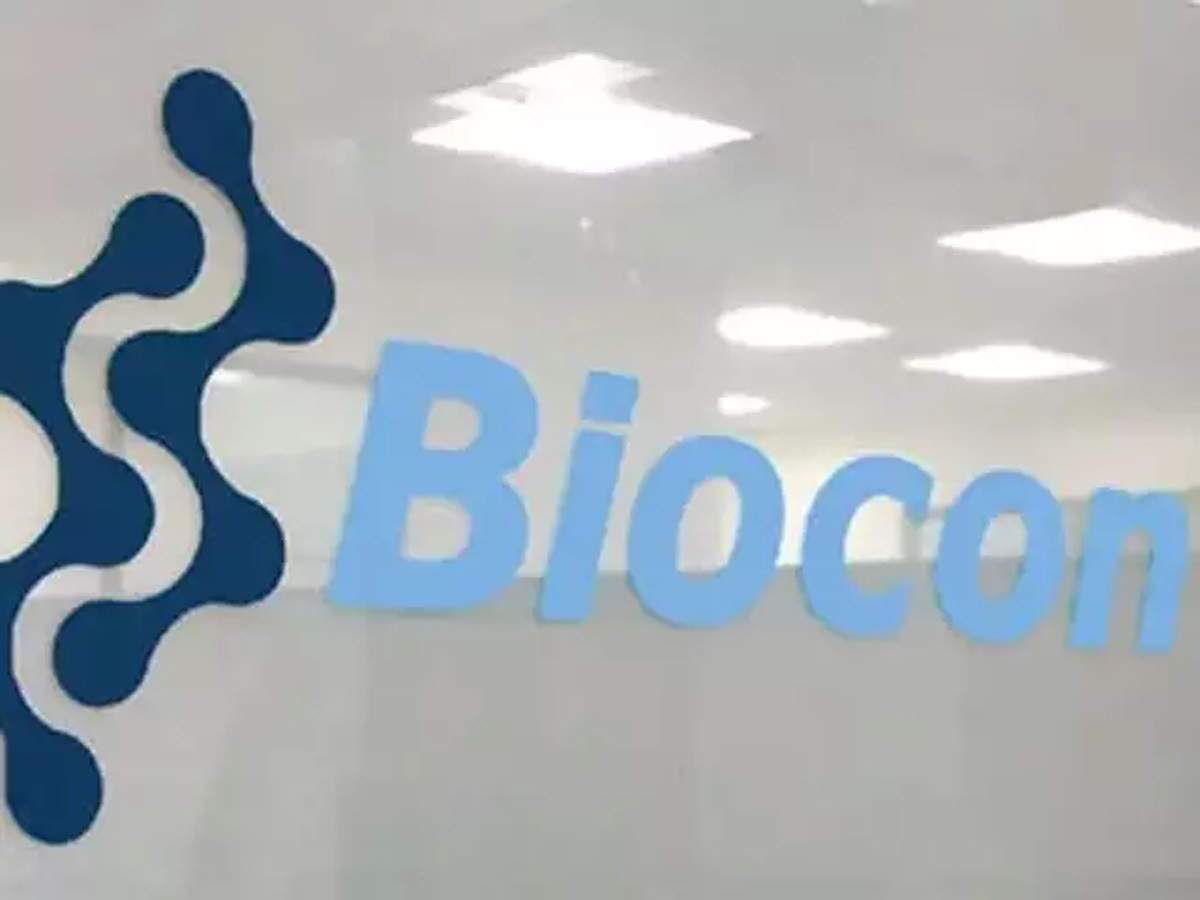 Biocon Biologics' valuation increase
Tata Capital will invest $30 million for a 0.85% stake in Biocon's biosimilar business Biocon Biologics, valuing the company at $3.5 billion.
The company was previously valued $3 billion when True North acquired a 2.44% stake in the company in January this year. Biocon Biologics, which was hived off from Biocon last year, has raised a total $105 million until now. After this transaction, Biocon's stake will stand at 95.25%.
Biocon Biologics, which clocked revenue of nearly $200 million last fiscal, is chasing a revenue target of $1 billion in the financial year 2021-22. Biocon and Mylan also received US FDA approval for its insulin glargine product earlier this year. Read more.