Byju's has made its largest-ever acquisition as edtech firms witness significant growth amid the Covid-19 pandemic
Meanwhile, India's central bank has unveiled a slew of measures to support startups and boost the adoption of digital payments.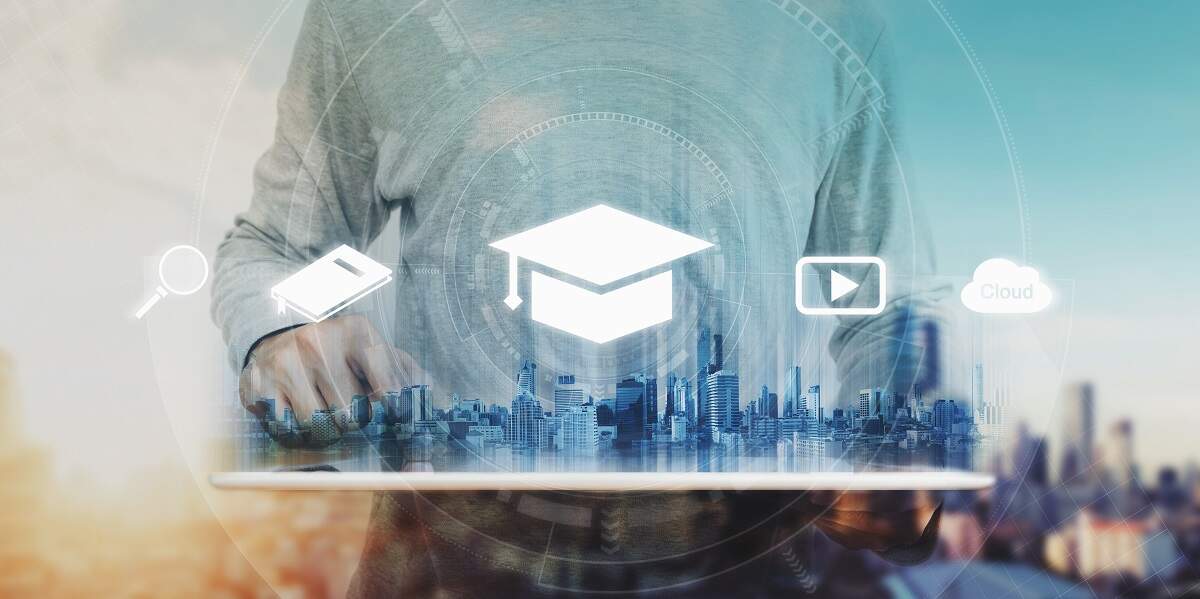 Byju's's largest acquisition
Think and Learn, which owns and operates education technology platform Byju's – The Learning App, has acquired Mumbai-based WhiteHat Jr in a $300 million all-cash transaction. This deal comes even as Byju's is reportedly in advanced stages of negotiations to acquire a learning app Doubtnut for as much as $100-$150 million in an all-cash deal.
Whitehat jr should send a big thank you card to Fortnite.Atleast 50% of their customers must be parents trying to… https://t.co/5WDacuzXlr

— shamik (@shamiksharma) 1596713597000
How will this help Byju's
The acquisition will allow Byju's to launch coding to children, a niche but fast-growing segment among the K-12 space in the broader edtech sector.
Byju's said it will make significant investments in WhiteHat Jr's technology platform and product innovation while expanding the teacher base to cater to demand from new markets. Founder Karan Bajaj will continue to lead and scale this business in India and the United States.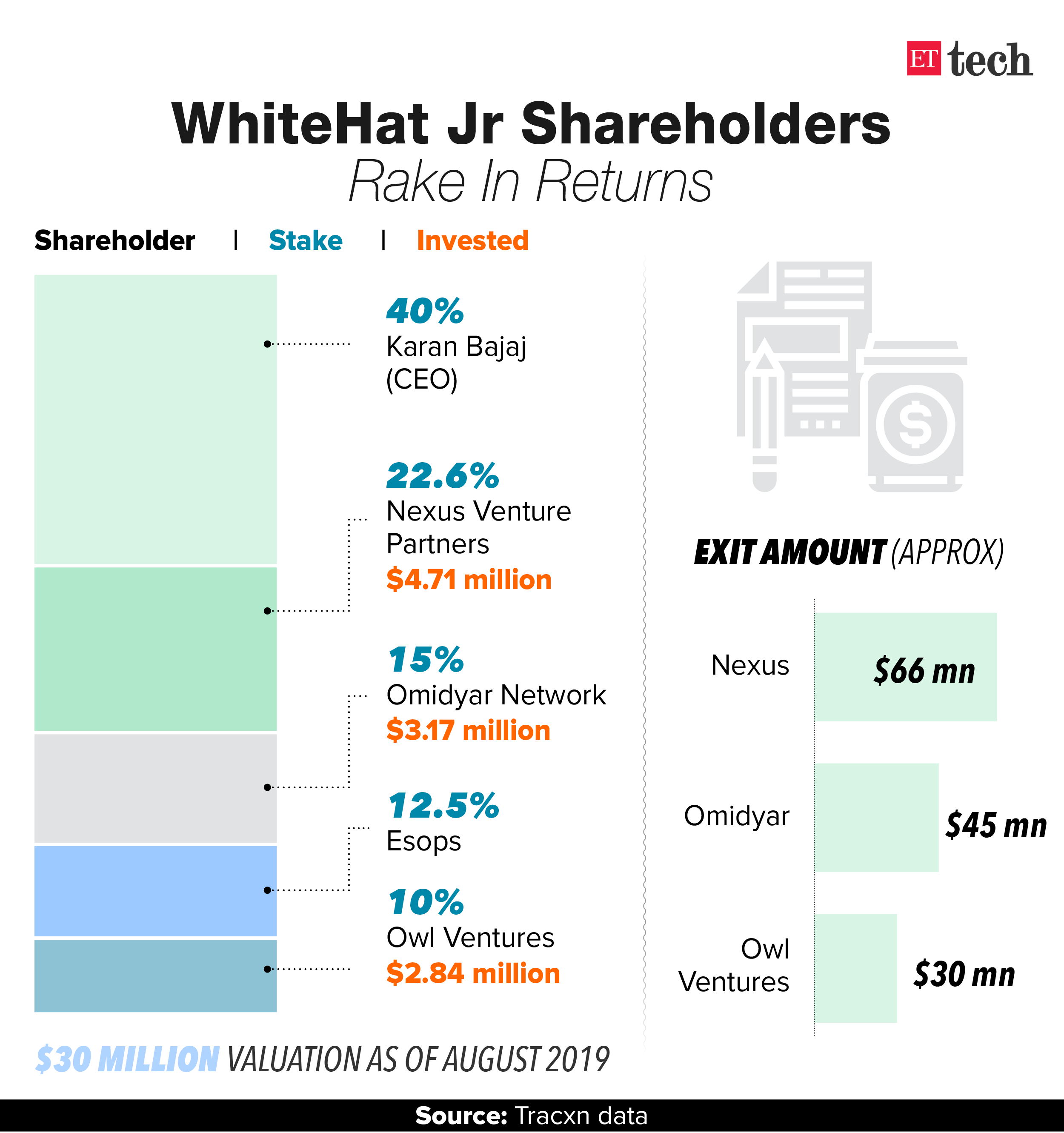 Big returns for investors

The WhiteHatJr acquisition is expected to give its investors huge returns in a relatively short period of less than two years. The startup had raised a little over $11 million across its seed and Series A rounds from investors like Nexus Venture Partners, Omidyar Network, and Owl Ventures.
What's also particularly noteworthy is that Bajaj was the largest shareholder in the startup, owning about 40% stake.
Related Coverage: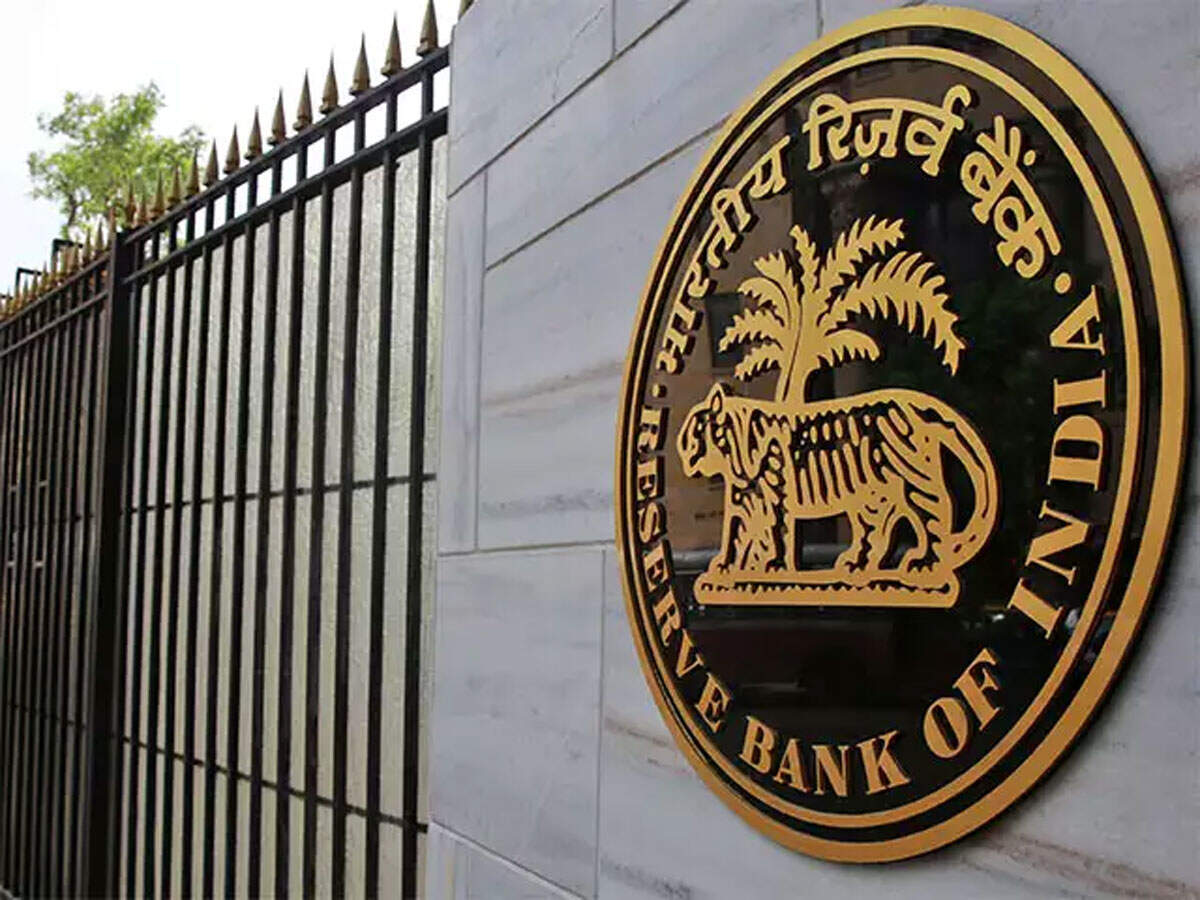 RBI's new measures
The Reserve Bank of India (RBI) has announced a slew of measures targeted to boost digital payments, improve the scope of priority sector lending, and drive innovation in the broader financial ecosystem. Key steps include:
A pilot for offline-based payments, which wouldn't require Internet connectivity
Startups to be eligible for priority sector lending. This is expected to help thousands of small startups get better access to bank credit for working capital support.
A weighted credit flow-based framework for banks to address the regional disparity seen in availing credit.
Online dispute resolution channel for failed digital transactions.
A new innovation hub that will help build new capabilities, technologies and ideas in the financial ecosystem
E-payments adoption across states
Even as more Indians take to digital modes of payments during the pandemic, there are stark differences in the rate of adoption across various states, government data reveals. While Andhra Pradesh, Haryana, Uttar Pradesh and Maharashtra recorded the highest number of transactions per person, the laggards include Chhattisgarh, Jammu & Kashmir and the North-Eastern states of Mizoram, Manipur, and Meghalaya.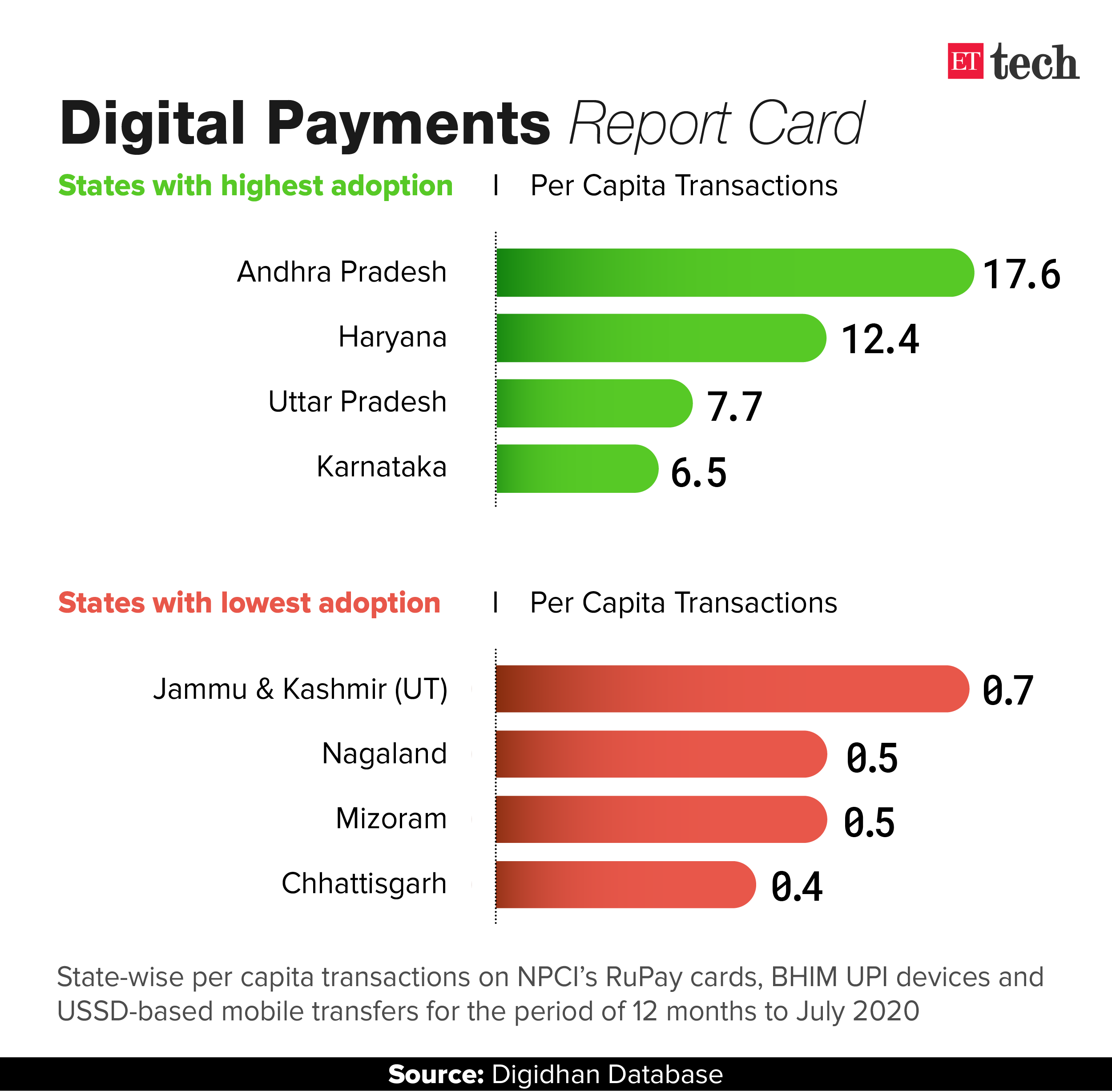 Indians averaged about 3.85 digital transactions per person between July 2019 and July this year with Chandigarh leading at 38.4 transactions per person. Delhi averages about 9.3 transactions per person, as MeitY's Digidhan database that tracks digital transactions across National Payments Corporation of India (NPCI) operated channels.
States with limited internet access and high rural populations are facing challenges in moving from cash to digital, according to both industry and government data.
Related Coverage: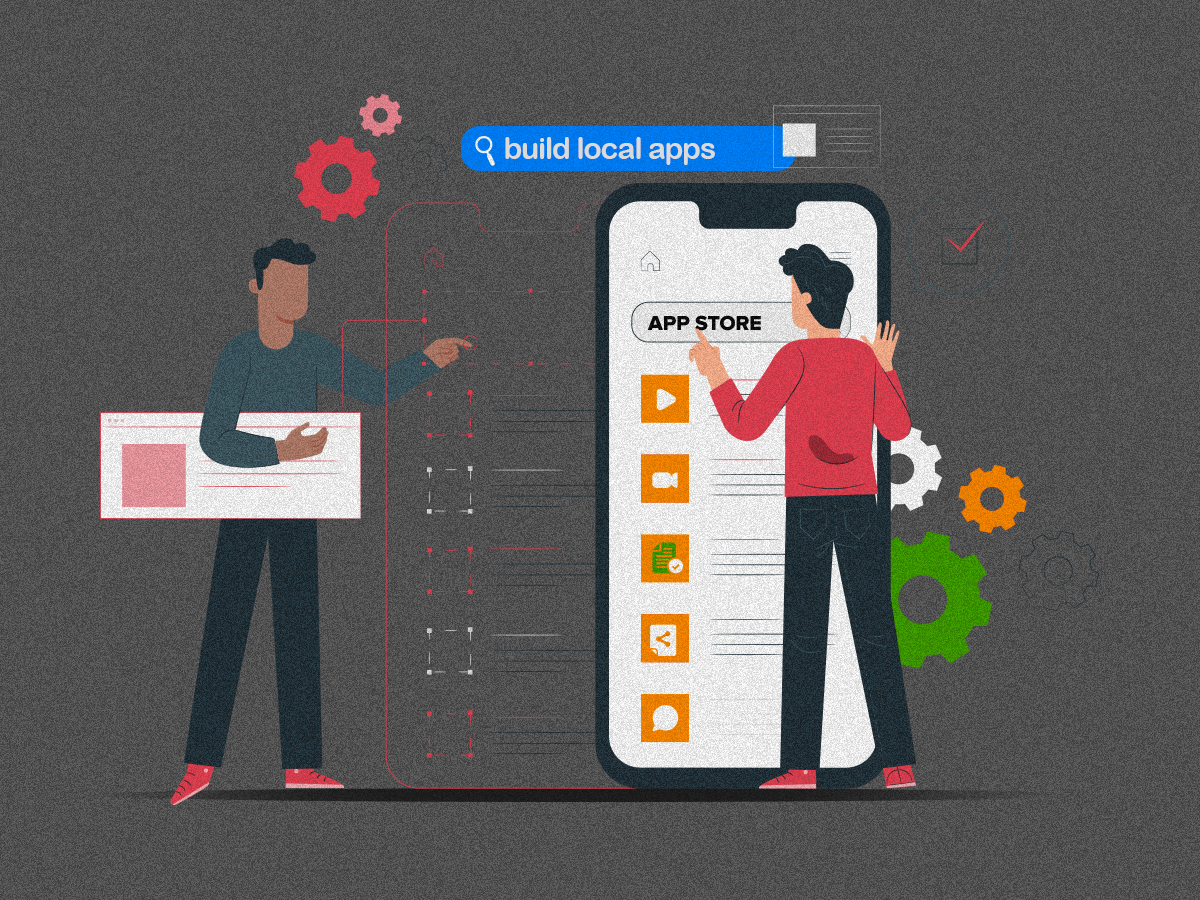 Rise of the Indian app ecosystem

The Indian Android app ecosystem has witnessed a stream of new entrants after the ban on Chinese apps in June over security concerns in the wake of rising border tensions between the two countries. Many of these apps have been created by young developers in small towns such as Solapur in Maharashtra and Gir Somnath village in Gujarat.
What do these apps do?
The majority of the apps focus on categories like file-sharing and management, photo-scanning, and phone cache cleaning. These include Kaagaz Scanner, Bharat Scanner, Share India, and ShareKaro among others.
Investors are also bullish about the emergence of Indian apps in different sectors, saying there's a clear need to create consumer-friendly utility apps that are intuitive in user interface and experience.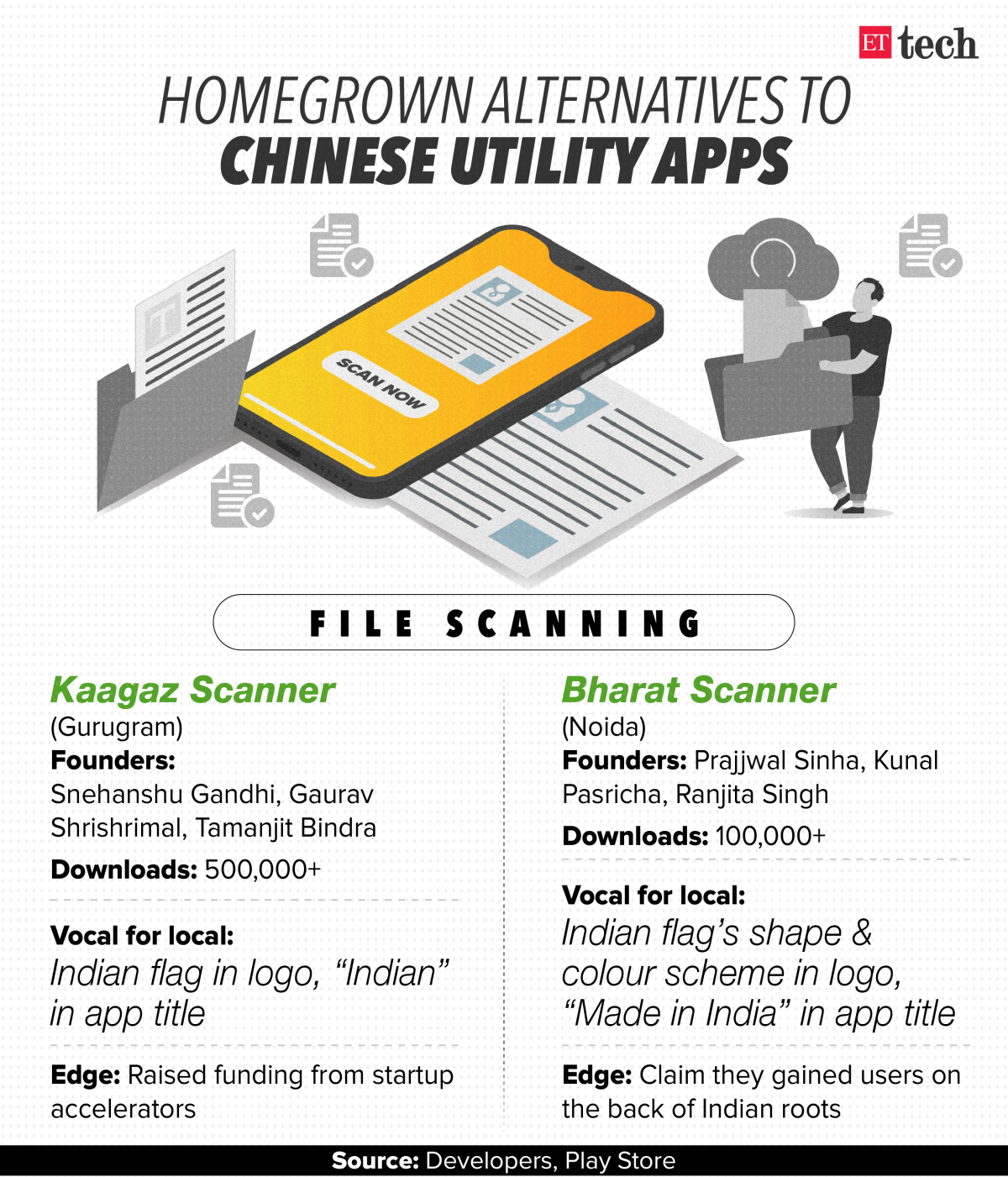 Challenges ahead
That said, it's easier said than done to fill the void left by the Chinese apps that have had years to upgrade their features and acquire new users. In the likelihood of the ban being reversed, some developers feel they won't be able to compete with their Chinese peers.
What's also unchecked is the potential security issues in these homegrown apps, the same reason why Chinese apps were suspended in the country.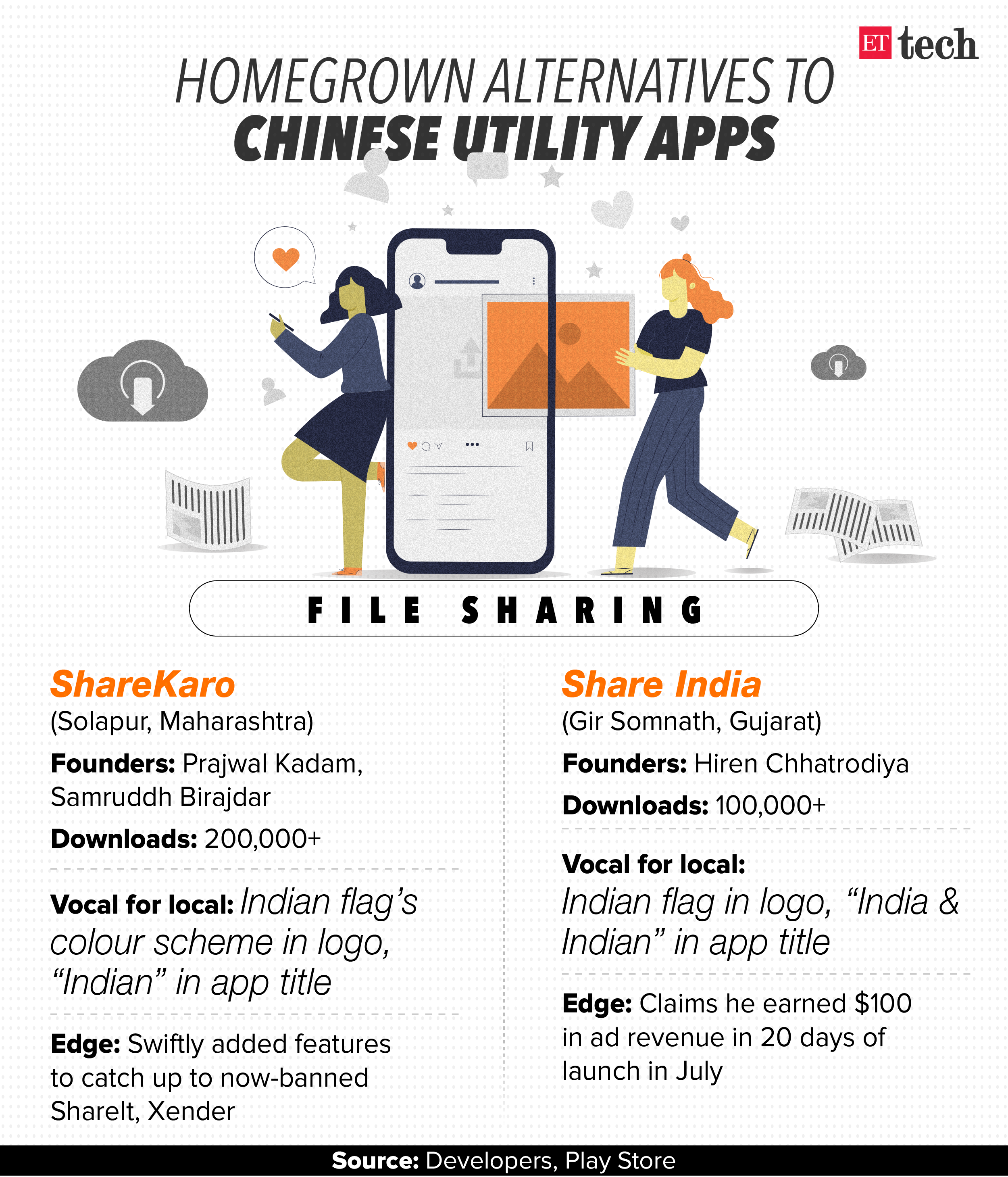 Related Coverage: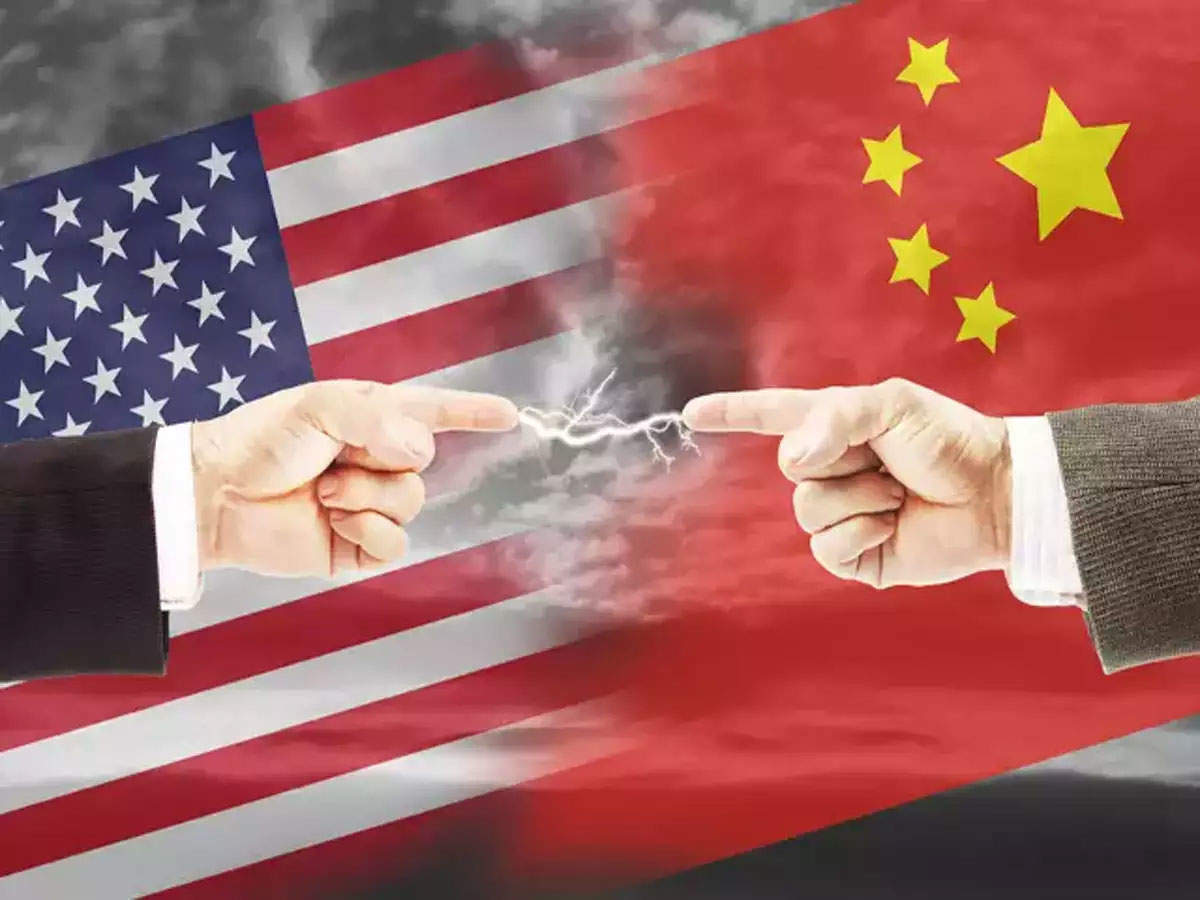 US-China tech war
The Donald Trump administration is stepping up its efforts to crack down on Chinese technology in the United States through a new five-pronged initiative called 'Clean Network' that spans across Chinese apps, telecom gear makers, user data, and internet infrastructure. The measures include:
Clean Carrier: To ensure untrusted Chinese carriers are not connected with US telecom networks.
Clean Store: To remove untrusted applications from US mobile app stores.
Clean Apps: To prevent Chinese smartphone manufacturers from pre-installing or making available prominent US apps on their own app stores.
Clean Cloud: To ensure the personal information of US citizens and intellectual property of businesses are not stored and processed on cloud-based systems accessible to Chinese companies like Alibaba, Baidu, and Tencent.
Clean Cable: Making sure the undersea cables connecting the US to the global internet "are not subverted for intelligence gathering by the PRC (People's Republic of China) at hyper-scale".
Indian Initiatives
India has also made similar efforts to cut down the dependence on Chinese tech over the past year, in line with the government's Atmanirbhar Bharat (self-reliant India) initiative amid border hostilities between both the countries.
It banned 59 Chinese apps in June and later followed it up by blocking 47 additional apps last month.
India has also barred Chinese equipment makers like Huawei and ZTE from government contracts and is believed to have nudged private players to gradually replace gear made by companies from the neighbouring country. It is also pushing hard on data localisation of user data from Indian citizens through various measures.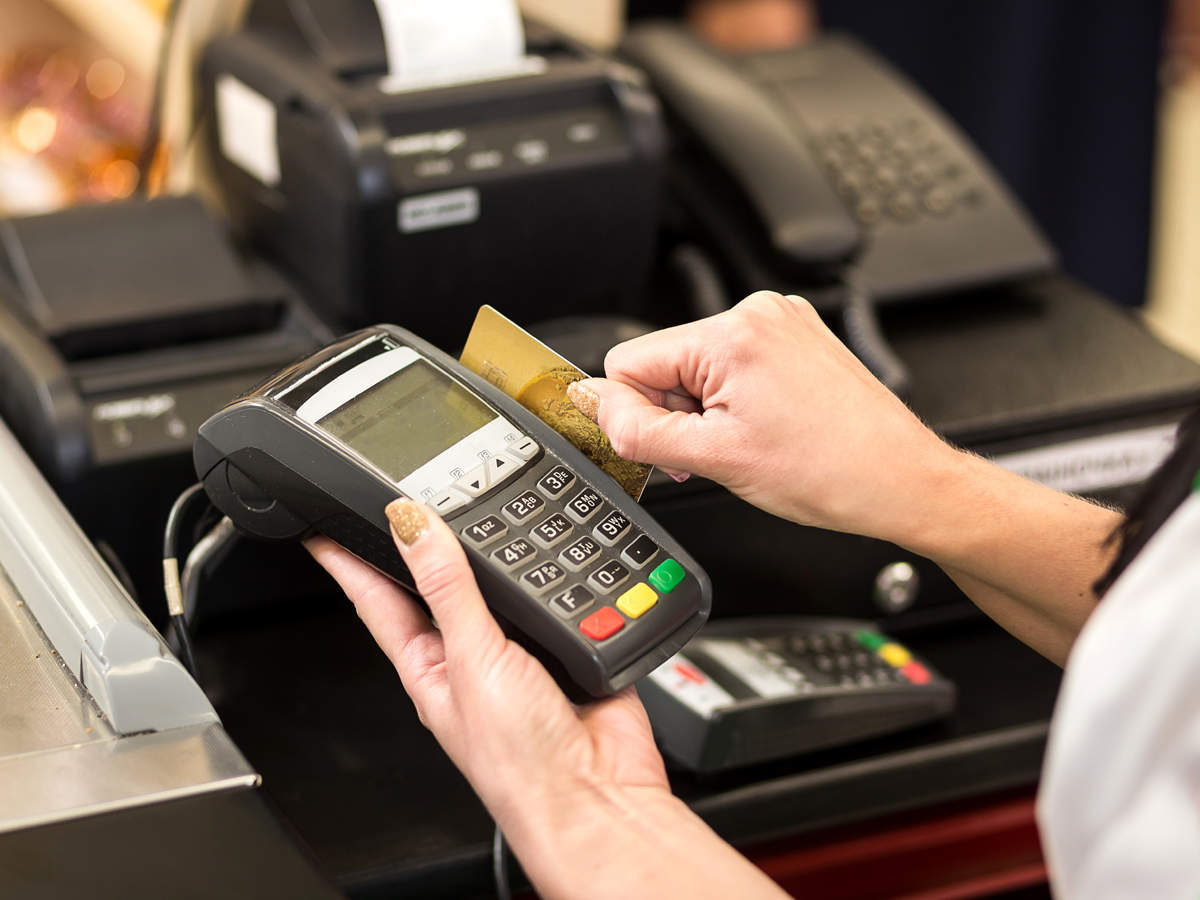 Mswipe's MDR waiver

Point-of-sale terminal solutions provider Mswipe is waiving off Merchant Discount Rates (MDR) for small businesses through a new payment acceptance solution. This will allow merchants to process all debit and credit card transactions, including those issued by Visa and Mastercard.
Why does it matter?
This move comes at a time when merchants across the country are looking at the cheapest solutions to make digital payment services available at their stores. It is targeting merchants with an average daily digital collection of Rs 2,000 – Rs 2,500 in tier 3-4 markets and Rs 8,000 – Rs 10,000 in metro and semi-urban areas.
Mswipe's move aligns with several other digital payment firms such as BharatPe and Paytm, who have waived off or subsidised MDR to lure more merchants to accept payments on their channels in recent months. Read more.
(Illustrations and graphics by Rahul Awasthi)