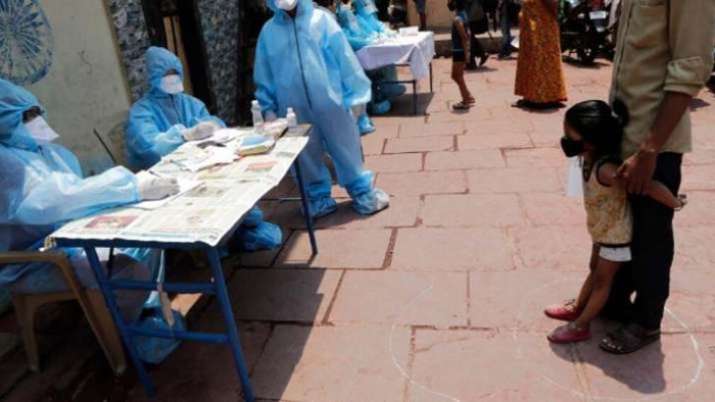 Number of coronavirus cases in Maharashtra, the worst affected state in the country by deadly Covid-19 outbreak, crossed 10 thousand mark on Thursday. 583 new cases were detected and by Thursday evening, the number of infections rose up to 10,498 The cumulative death toll has reached 459. This includes 27 deaths that were recorded today.
Mumbai remains the worst-hit city in the state. The city alone accounts for 70 percent of total positive cases. By Thursday, there were 7061 coronavirus cases in Mumbai. The death toll in Mumbai is 290.
25 new cases were detected in Dharavi, the largest slum in the city. The death toll in Dharavi 18. The spread of Coronavirus in Dharavi is a matter of concern and an uncontrolled spread of the virus may invite a catastrophic situation. About 7.5 lakh people stay in Dharavi slums in extremely unhygienic conditions. To tackle the situation in Dharavi and in Mumbai, authorities are setting up a quarantine centre at Bandra Kurla Complex (BKC). The location is close to Dharavi slums.
Here are the latest Covid-19 case from across Maharashtra
| | | | |
| --- | --- | --- | --- |
| District/ City | Positive cases | Deaths | Discharged |
| Mumbai | 7061 | 290 | 1092 |
| Thane | 943 | 16 | 172 |
| Palghar | 169 | 4 | 46 |
| Raigad | 71 | 3 | 24 |
| Nashik | 197 | 12 | 6 |
| Ahmednagar | 42 | 2 | 23 |
| Dhule | 25 | 3 | 0 |
| Jalgaon | 40 | 9 | 1 |
| Nandurbar | 11 | 1 | 0 |
| Pune | 1248 | 88 | 248 |
| Solapur | 99 | 6 | 0 |
| Satara | 32 | 2 | 9 |
| Kolhapur | 14 | 0 | 4 |
| Sangli | 29 | 1 | 25 |
| Sindhudurg | 2 | 0 | 1 |
| Ratnagiri | 8 | 1 | 5 |
| Aurangabad | 131 | 7 | 22 |
| Jalna | 2 | 0 | 1 |
| Hingoli | 15 | 0 | 1 |
| Parbhani | 2 | 0 | 1 |
| Latur | 12 | 1 | 8 |
| Osmanabad | 3 | 0 | 3 |
| Beed | 1 | 0 | 1 |
| Nanded | 3 | 0 | 0 |
| Akola | 39 | 1 | 8 |
| Amravati | 28 | 7 | 4 |
| Yavatmal | 79 | 0 | 10 |
| Buldhana | 21 | 1 | 17 |
| Washim | 2 | 0 | 1 |
| Nagpur | 139 | 2 | 37 |
| Bhandara | 1 | 0 | 0 |
| Gondia | 1 | 0 | 1 |
| Chandrapur | 2 | 0 | 2 |
Watch | PM Modi discusses strategies on boosting economy amid coronavirus lockdown
Latest News on Coronavirus
Latest India News
Fight against Coronavirus: Full coverage