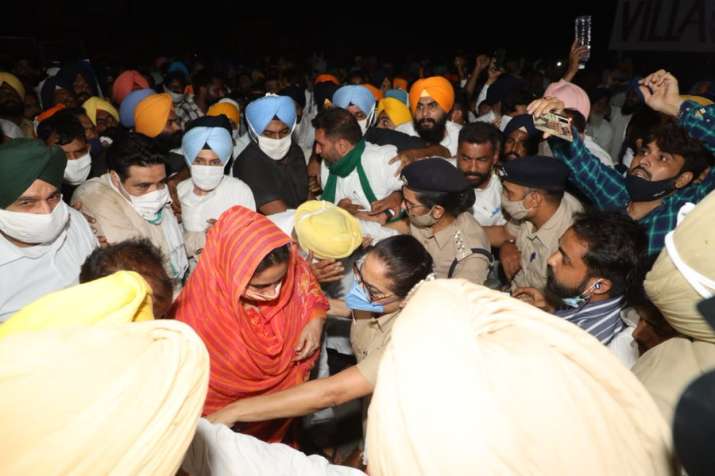 Former Union Minister and Akali Dal leader Harsimrat Kaur Badal and other party leaders were detained on Thursday while trying to enter Chandigarh in protest against new farm laws. She was leading the Kisan March towards Chandigarh. Badal had led massive farmers protest from Bathinda's Takht Damdama Sahib towards Chandigarh. The long retinue comprising of farmers and Akali Dal supporters on trucks, cars and on foot, was stopped by Chandigarh Police as they arrived at the Chandigarh-Zirakpur border. Taking to Twitter, she said, "arrested for raising farmers' voice, but they won't be able to silence us."
ਕਿਸਾਨਾਂ ਦੇ ਹੱਕਾਂ ਦੀ ਰਾਖੀ ਲਈ ਆਵਾਜ਼ ਚੁੱਕਣ ਬਦਲੇ ਸਾਨੂੰ ਗ੍ਰਿਫ਼ਤਾਰ ਕੀਤਾ ਜਾ ਰਿਹਾ ਹੈ, ਪਰ ਅਸੀਂ ਸੱਚਾਈ ਦੀ ਪੈਰਵੀ ਕਰ ਰਹੇ ਹਾਂ ਅਤੇ ਇਸ ਜ਼ੋਰ ਜ਼ਬਰ ਨਾਲ ਸਾਡੀ ਸੱਚਾਈ ਦੀ ਆਵਾਜ਼ ਦਬਾਈ ਨਹੀਂ ਜਾ ਸਕੇਗੀ।

Arrested for raising farmers' voice, but they won't be able to silence us.#IkkoNaaraKisanPyaara pic.twitter.com/zzFtt6TqqT

— Harsimrat Kaur Badal (@HarsimratBadal_) October 1, 2020
On the other hand, SAD chief Sukhbir Singh has been detained at Mullapur border by Chandigarh police. According to reports, state Dera Bassi MLA NK Sharma, Bhupinder Singh Bhunder and Youth Akali Dal (SAD) president Parambans Singh Romana were among the other leaders detained. The Police have also resort to lathi-charge and used water cannons to disperse Shiromani Akali Dal (SAD) workers during the Kisan March.
#WATCH Chandigarh: Police resort to lathi-charge & use water cannons to disperse Shiromani Akali Dal (SAD) workers during Kisan March against #FarmBills; visuals from near Mullapur barrier. pic.twitter.com/sqpuGu4DGi

— ANI (@ANI) October 1, 2020
Earlier today, farmers in Punjab intensified their agitation against the new farm laws as they squatted on rail tracks at many places for an indefinite period and staged sit-ins outside the residences of BJP leaders.
A total of 31 farmers' bodies have joined hands to intensify the agitation. They had announced to block rail tracks from October 1 for an indefinite period.
Krantikari Kisan Union president Darshan Pal said that farmers blocked rail tracks at 30 places in the state to press the Centre to revoke new farm laws. Bhartiya Kisan Union (Ekta Ugrahan) general secretary Sukhdev Singh Kokrikalan said they blocked rail tracks at Dhablan (Patiala), Sunam (Sangrur), Budhlada (Mansa) and Gidderbaha (Muktsar).
Some other farmers' unions have also blocked rail tracks in Barnala, Bathinda, Faridkot, Gurdaspur, Rupnagar, Phillaur, Moga and other places.
Latest India News
Fight against Coronavirus: Full coverage