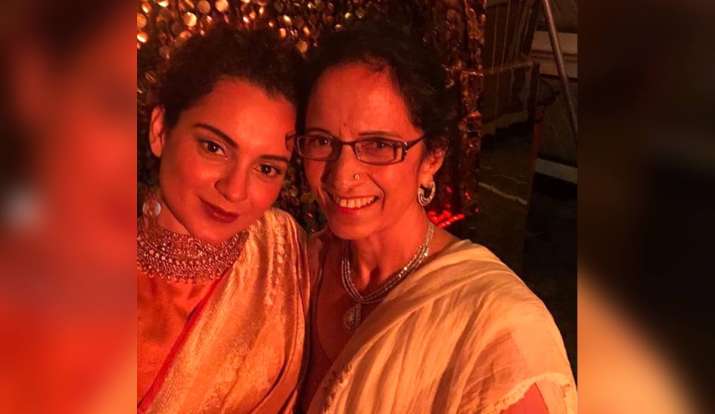 Actress Kangana Ranaut wished her mother Asha Happy Mother's Day with a beautiful poem on Instagram on Saturday. She is staying with her family in Manali amid the ongoing lockdown. "#KanganaRanaut pens down this beautiful poem on the account of Mother's Day. Here, she dedicates some beautiful words as gift to her mother and all the mothers in the world. Happy Mother's Day," the actress' team captioned the Instagram post.
Here is Kangana Ranaut's Mother's Day poem:
I'm your longing for life

When I first arose in your young heart …
Your eyes gleamed with hope
When I came to your womb as a single cell
You breathed to give me life
You ate to give me blood
And then you cut me off from you
And gave me to the world
A piece of you
Outside of you
Lost and looking for you
I traveled the world,
But nowhere I found the love and warmth of your womb
And then I went to my own heart I found you mother
I found you there
You arise in my heart
As a desire
As a longing … for love
On Twitter, Kangana shared a different picture to extend Mother's Day wishes to Asha Ranaut "in advance".
"Wishing a very Happy & Blessed #MothersDay in advance to a strong woman who raised strong women, Mrs Asha Ranaut. #KanganaRanaut spends quality time with her mum to mark the celebration of Mother's Day!" the team Kangana Ranaut tweeted.
Wishing a very Happy & Blessed #MothersDay in advance to a strong woman who raised strong women, Mrs. Asha Ranaut. #KanganaRanaut spends quality time with her mum to mark the celebration of Mother's Day!#MothersdaywithPanga pic.twitter.com/0l65QLZt5B

— Team Kangana Ranaut (@KanganaTeam) May 9, 2020
Fight against Coronavirus: Full coverage