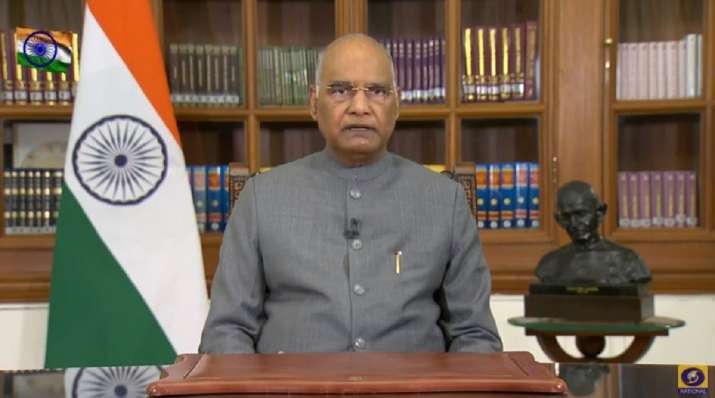 President Ram Nath Kovind greeted the nation on the eve of the 72nd Republic Day. In his address Monday evening, President Kovind commended farmers, soldiers, and scientists, and said they deserve special appreciation. He thanked doctors, scientists, and people from other walks of life who contributed to containing the coronavirus.
HIGHLIGHTS
Our scientists, along with doctors, administrators & people from other walks of life, have made major contribution in containing the virus & keeping the fatality rate lower in our country, compared to that in developed countries.
Our farmers, soldiers and scientists deserve special appreciation and a grateful nation greets them on this auspicious occasion of the Republic Day.
By conducting not only free & fair but also safe elections in Bihar which has high population density & Jammu & Kashmir & Ladakh with difficulties of access & other challenges, our democracy & Election Commission have accomplished remarkable feats.
I am sure that with a view to reducing the risk of such pandemics, the issue of climate change will be accorded top priority at the global level.
Economic reforms continue apace & supplemented by long-pending reforms in areas of labour & agriculture through legislation. Path to reform at initial stages may cause misapprehensions. However, it's beyond doubt that govt remains singularly devoted to farmers' welfare.
The administration and health services are working with full readiness to make this exercise (vaccination) a success. I urge upon countrymen to utilise this lifeline & get vaccinated as per guidelines. Your health opens the way for your advancement.
Past year was a time of adversity, & it came from many fronts. We faced an expansionist move on our borders, but our valiant soldiers foiled it. To achieve this objective, 20 of them had to lay down their lives. The nation shall remain grateful to those brave soldiers.
Though we reiterate our commitment to peace, our defence forces – Army, Air Force & Navy – are adequately mobilised in a well-coordinated move to thwart any attempt to undermine our security. Our national interest will be protected at all costs.
READ MORE: Republic Day 2021: Delhi Traffic Police asks commuters to avoid THESE routes – Full List
READ MORE: 100 meritorious students from schools, colleges to watch Republic Day parade from PM's box
Latest India News